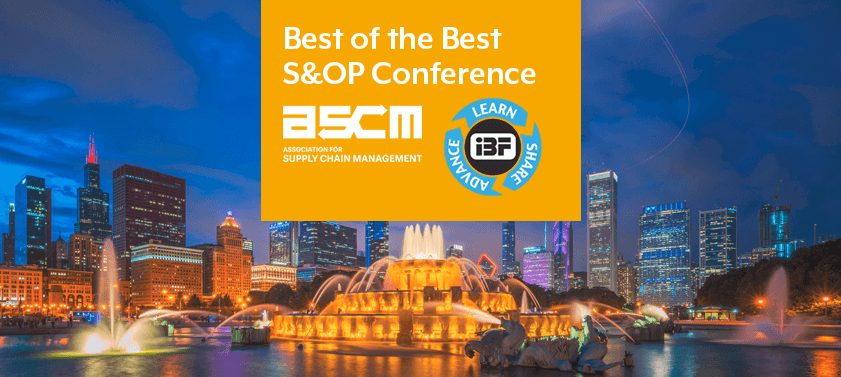 According to Mark Moon, a co-author of Advanced Demand /Supply Integration (DSI) Best Practices, a white paper published by the Global Supply Chain Institute of the University of Tennessee Knoxville, "S&OP really needs a strong rebranding effort." We couldn't agree more. Stale misconceptions, poor participation, and inadequate process support continue to plague many organizations and give S&OP a bad name. Most of these issues exist because people don't truly understand the purpose of S&OP: to effectively plan and grow long-term profitability.
If you're looking to learn more about S&OP and reboot your practices a bit, we hope you'll join us at the Best of the Best S&OP Conference to be held June 13-14 in Chicago. Now in its 12th year, the Best of the Best S&OP Conference is renowned as a global gathering of the brightest minds in the industry. The conference, presented by Association for Supply Chain Management (ASCM) and the Institute of Business Forecasting and Planning (IBF), offers unparalleled educational and networking opportunities for professionals in the field. Topics to be covered this year include: Managing Demand for New Products with No Sales History, Making Effective Use of Big Data & Predictive Analytics for Better Insight & Planning, Integrating S&OP With Financial & Strategic Planning For The Data-Driven Age, and more.
Learn more about the Best of the Best S&OP Conference, visit https://ibf.org/events/chicago2019. We hope to see you at the show! In the meantime, we encourage you to check out our must-read eBook: Debunking 7 Common S&OP Misconceptions.