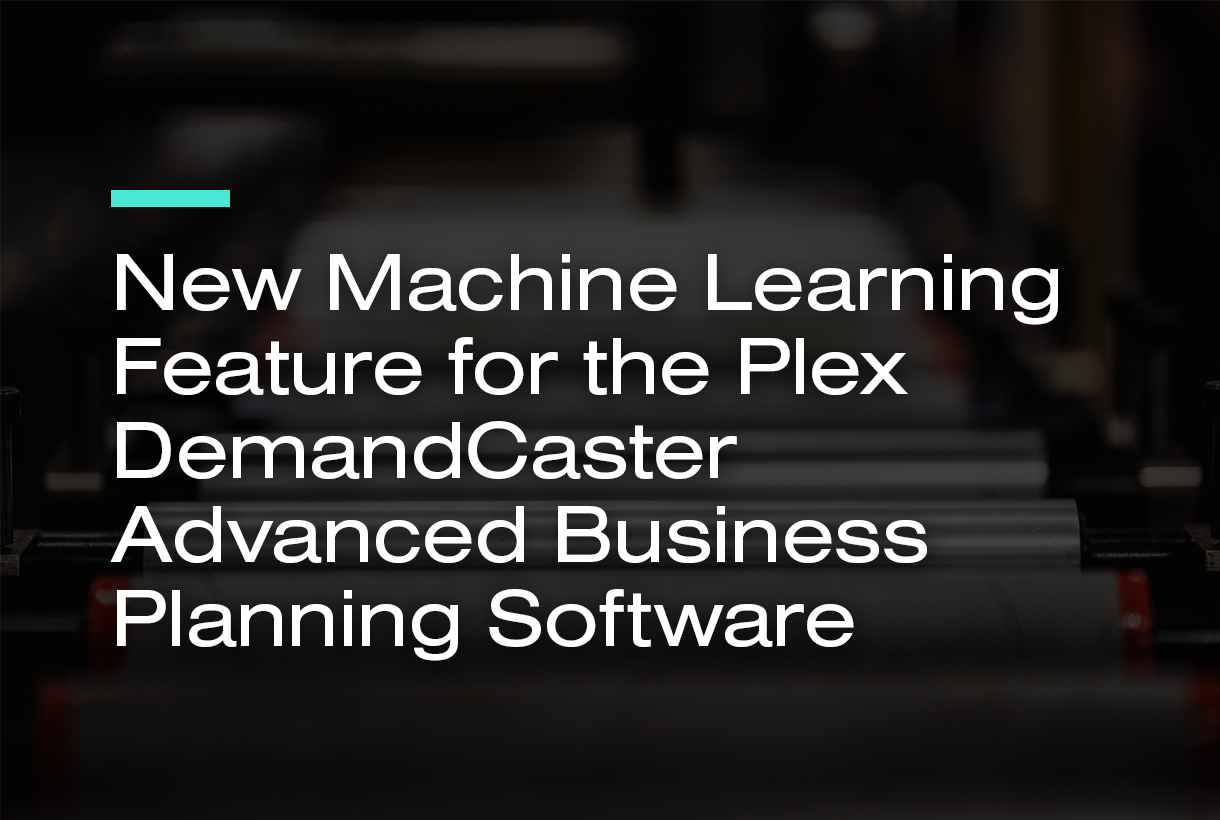 As supply chain professionals cope with the reality of the last decade – and the massive disruptions that came with it – new tools and ideas are needed to optimize processes and streamline operations.
For an industry that had grown reliant upon stable supply chains that allowed lean and JIT methodologies to be applied to demand and supply planning, the future looks even more uncertain.
Plex DemandCaster's Advanced Business Planning Software was designed for the modern supply chain professional to have the most accurate and powerful tools at their fingertips. Now, with the addition of machine learning functionality the solution is poised to help those same SCM professionals confidently manage the new reality.
Why Add Machine Learning?
Machine learning isn't a new concept, but its addition to SCP has been a slow process. Machine learning traditionally required data science professionals to understand what models to apply. Complex models with complex use cases needed a greater depth of understanding, so the extensive use of machine learning was problematic.
But as lean and JIT practices give way to greater uncertainty and the need for more agile responses, it became clear that traditional forecasting – and its reliance on stable supply chains – couldn't handle a high level of uncertainty in drivers and pivotal events.
The answer to this uncertainty was to use a greater influx of data available in connected factories and service environments. Combined with machine learning, this data is purposed to understand its relevance to supply planning and close the gap between the stable supply chains of the past and the disruption of the last few years.
Bringing Machine Learning to Planning Professionals
Few companies of any size have dedicated data scientists on staff. With data in flux and often confusing, Plex DemandCaster's approach was: "How do we bring the functionality of machine learning to planning professionals without requiring the high-level skillset?"
They began by looking at the data. The Advanced Business Planning platform already included features such as smoothing and forecasting, but adding machine learning capabilities allowed them to dive deeper into additional dimensions of data.
The new machine learning functionality provides further context for the categorizing of products. It allows planners to bring in future and past pricing and event data for new product lines. It also accounts for disruptions such as stockouts. It can even integrate with POS data and IHS Markit (S&P Global) data for auto forecasts.
With these new inputs, machine learning algorithms will weed out irrelevant data and point planners in directions they hadn't considered. Additionally, it can reach back to POS, and may inform the planner that color is a more significant influence than style, or it may use membership data to project sales growth.
The Plex DemandCaster Machine Learning Approach
Plex DemandCaster's approach is to zero in on critical data. By starting with the database, planners have the flexibility to build out their unique definition of base data. They can also add hierarchical levels for the customer, product, location, etc. This flexibility allows them to build in attributes that are unique to the company.
The result is a system where the machine identifies the most essential attributes and allows planners to build them into the forecast. It fills the gap left by the departure of stable, JIT, and predictable supply chain forecasting, giving planners a powerful tool for achieving greater forecast accuracy.
Machine Learning and Plex DemandCaster's Advanced Business Planning Software
Today's planning professionals are under more stress than ever before. With the loss of predictability and the implosion of long-held planning models, many planners are pushed to the edge. Plex DemandCaster's new machine learning features allow planners to reclaim certainty and even move past it to greater accuracy.
The machine learning feature is an addition to its Advanced Business Planning software that helps planners realize more accuracy to lower inventory, create more accurate forecasts, and reduce guesswork. It's intuitive and requires a minimal learning curve.
Planning by spreadsheet was problematic before the disruption of recent years. Now, it's all but impossible. With Plex DemandCaster's machine learning feature in their Advanced Business Planning software, planners can rely on machines to show them what plan works best.
To find out more about how the soon-to-be-released machine learning features of Plex DemandCaster's Advanced Business Planning Software can help you remove uncertainty and plan with greater accuracy, contact us today.