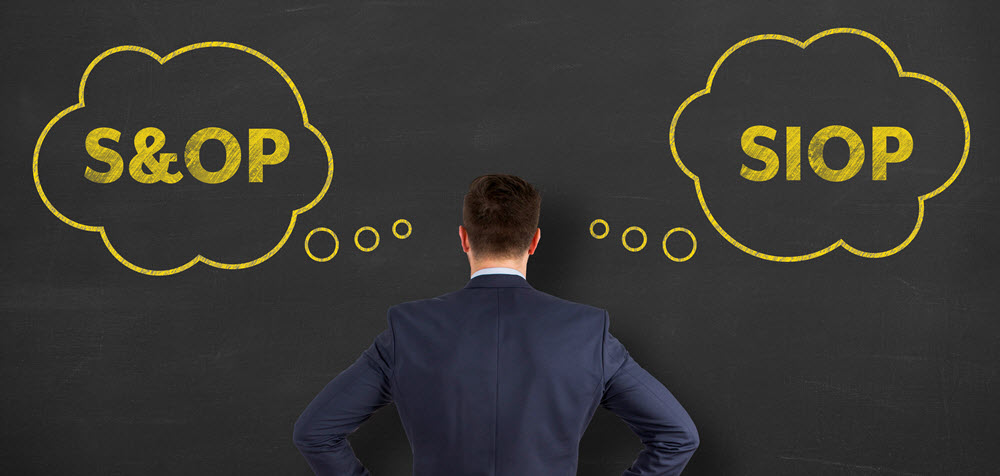 From one perspective, there is very little difference between "sales and operations planning (S&OP)" and "sales, inventory, and operations planning (SIOP)" because the overall objective is the same for both: Get the right inventory to the right place at the right time. Another perspective, however, positions SIOP as a step beyond S&OP because adding the "I" means reaching higher levels of inventory optimization, which requires more sophisticated planning capabilities but will likely result in increased benefits to the business.
Sales and operations planning evolved over the past 15 years as part of the evolution of MRP and ERP programs that companies use. As more data and information became available, it developed to integrate business processes so that executive leadership could align and synchronize sales and operations. It allowed executives to focus and develop their strategy for future business operations over months and years.
Recently, as access to data and strong analytics software has become more prevalent, the addition of dynamic calculation of inventory into S&OP systems has become more common. This addition gives product companies a deeper picture of demand and supply planning that allows them to make better and more accurate forecasts, increase inventory turns, and improve perfect order performance.
Why Add Dynamic Inventory Calculation?
As a high-level executive strategy system, S&OP starts with gathering data about variables such as sales forecasts, cash on hand, and inventory. From there, a formal meeting for demand planning ensues to build forecasts without input from other departments such as finance or operations.
Next, supply planning as it relates to operational goals that are necessary to service the demand plan occurs. A third meeting then brings together cross-functional teams to iron out differences and align the demand plan with the supply plan, while a fourth, and final, meeting is an executive-level summary for approval.
S&OP systems usually operate over an 18- to 36-month forecast window using aggregated data such as sales order position, industry trends, and other broad information. However, many companies have begun to include inventory optimization in their S&OP strategy. As software has advanced in recent years, product companies can now deploy inventory optimization software to link their operation to dynamic inventory calculations. This deployment has different benefits, depending on a company's overall strategy.
For companies looking to increase top-line profits for a rollout of a new product or product family, optimized inventory ensures that inventory levels will be there for sales that are booked or anticipated over the forecast. Inventory optimization also helps reduce supply chain costs. Many companies operate inventory planning using "rule-of-thumb," legacy calculations or a targeted "safety stock" level. But using a dynamic calculation derived from algorithms allows for accurate inventory for the agreed-upon supply to meet demand forecasts.
The importance of optimized inventory varies from company to company. Depending on their product and financial health, many companies may choose inventory optimization to help manage cash flow and working capital. This is especially true for companies that both manufacture and distribute their products, where balances and trade-offs are necessary to manage service levels while maintaining low working capital requirements.
Inventory optimization software can help manage the entire inventory chain that includes not just safety stock but also WIP and inbound inventory for booked orders.
Benefits to Adding Inventory Optimization to S&OP
S&OP uses broad data from high-level sources to develop demand forecasts that are then reconciled with the supply plan. And it does so at the executive level in order to develop a cohesive and balanced business strategy.
By adding inventory optimization software, companies can benefit from a system that accounts for planned service levels, demand volatility, and lead time variation for each SKU. Traditional S&OP planning often deals with product families or broad product categories. With the addition of inventory optimization capabilities, demand plans can be understood at the SKU level.
Inventory optimization software can also improve inventory turns. This factor is critical for product companies that invest a greater proportion of working capital in inventory. Some product companies have reported a 15 to 30 percent decrease in inventory costs and a 25 percent increase in service levels within a single year.
Integrating demand and supply can positively impact internal processes as well. With traditional inventory data freed from silos and included in the higher-level strategic plans of an SIOP system, managers can communicate and collaborate seamlessly. This collaboration improves overall operational efficiency and replaces intuition and gut feeling by deploying technology along with the planning methodology.
With consumer tastes shifting more frequently than ever before, the ability to adapt to necessary schedule changes and supply adjustments based on a volatile demand signal is critical. By integrating inventory optimization, companies can streamline their processes to respond with even greater speed and flexibility.
Whether you are just starting out on your S&OP journey or needing to perform multi-echelon inventory optimization, DemandCaster can help. Contact us and let's explore how to advance your planning capabilities.