You are likely familiar with the "bullwhip effect," which refers to increasing swings in inventory as you try to meet shifting customer demands the deeper you move into the supply chain. The largest "wave" of the whip hits the supplier of raw materials the hardest. The bullwhip effect also gets compounded by other variables including forecast errors, lead time variability, trade promotions, supply shortages, new product introductions, and product retirement.
Your ability to accurately forecast and plan into the future becomes more complex and the deeper into your supply chain you get, and the longer out you plan into the future.
What can you do to get a more accurate view in to the future?
Start with the Basics: People, Process, and Tools
All the key stake-holders in your supply chain need to communicate and collaborate in a standard, repeatable process that includes all relevant supply chain information so you can get the visibility you need to minimize the bullwhip effect.
Sales and operations planning (S&OP) is a proven, repeatable business process that allows you to set a forecast and measure where your demand is now—and implement strategies and plans to course correct as demand changes throughout the supply chain.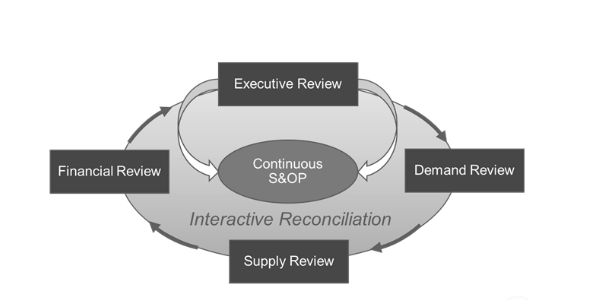 The key to S&OP is ensuring that key stakeholders are working off of the same plan for demand planning and that they all have a mechanism to share what their key assumptions and recommendations, risks and opportunities, decisions and actions, issues for escalation, and adjustments are with one another in context. It's essential that executives, marketing and sales, production personnel, the financial team, and suppliers communicate and collaborate from a single source of truth.
The tool you use to provide these stakeholders for planning needs to be able to seamlessly translate information for the various groups in a way that they understand and can act on. For example, if sales and marketing create a new product promotion that will have a material impact on the base demand plan, production needs to know what the incremental lift is for that promotion is and the potential impact on resources and capacity restraints involved.
Why Should You Adopt S&OP?
Few business improvement initiatives match the economic return that implementing an effective S&OP process can generate. S&OP can drive dramatic improvements in key business performance metrics and grow top line business while reducing operating costs when it's effective.
In a 2013 article, Hackett Group looked at top performing companies, their adoption of S&OP, the types of tools they use to support the process, and the benefits. The results were:
70 percent of study participants had implemented an S&OP process, but there was a significant gap between S&OP top performers and those that merely practice S&OP.
Top performers also seemed to be ahead of other organizations in terms of system or tools enablement of S&OP.
Reporting adoption levels were 66 percent higher. Most top performers had system/tool capabilities in place to produce trend reports, exception reports, and performance dashboards to support S&OP executive reviews and ongoing improvement.
S&OP Best Practices
As you already know, uncertainty in customer demand for your products means you lack the ability to forecast accurately. You do however have some sense of historical demand. S&OP tools will assist you in leveraging historical demand to project future demand into a monthly forecast. The beauty of modern systems, like the beauty of modern navigation systems is that you don't need to know how they work, you just need to know how to use them to arrive at the most accurate projection of future demand.
A typical S&OP process spans a given month.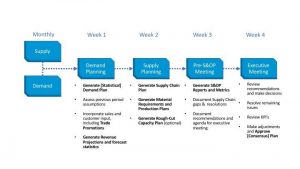 Week one of each month, your cross-functional team, comprised of key stakeholders, will incorporate their assumptions and recommendations as they understand them. Depending on your company's level of sophistication and complexity, this process can take time and may include multiple groups or teams. When the forecast is complete, you'll run a projected revenue plan based on all key assumptions and generate statistics to measure forecast accuracy.
Week two with your demand plan in place, you'll create an unconstrained supply plan. At this point, you really don't know if you'll actually be able to fulfill the demand plan, but you would like to know what issues and gaps may arise from that supply plan so you can address them proactively.
Week three and four you'll hold pre-S&OP and executive meetings.
Then you'll start again with week one.
Mitigating the Bullwhip Effect
S&OP enables you to implement a time-based approach for each node in your supply chain that determines when inventory is likely to be depleted and plan appropriate replenishment activity e.g. stock transfers, supply orders, etc. to avoid shortages at each node, which is called distribution requirements planning (DRP). You can either implement a pull, push, or hybrid DRP strategy. DRP is especially effective because it combines the service levels of pull (also the primary cause of the bullwhip effect) with the efficiency of push, where goods are sent through the network based on forecasted demand. Push generally has lower cost because shipments are planned globally and stored centrally. The hybrid approach also works well because it depends on an accurate forecasting and a stable S&OP process to be successful—which is exactly what you need to minimize the bullwhip effect.
See it for yourself! Sign up for a DemandCaster S&OP product demo. No strings attached.