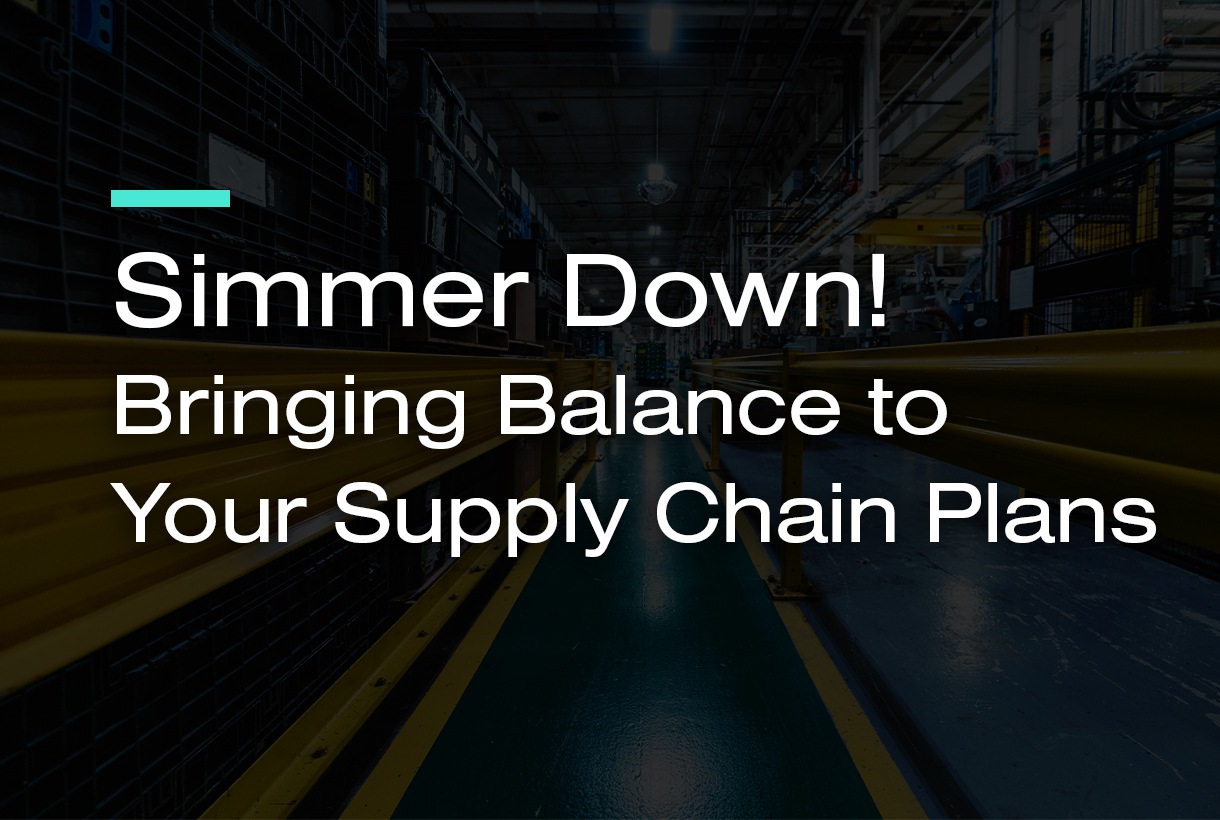 Companies worldwide are experiencing unprecedented volatility in customer demand and supply of raw materials from suppliers. This volatility heats a company's demand and supply strategies, often boiling over and causing chaos.
As customer demand shifts more frequently, many suppliers struggle to keep up and fulfill replenishment requirements because they're also experiencing volatility.
And something must give.
The reality is those past strategies of simply using customer demand as input and exploding this demand to generate raw material requirements don't work. Continuing disruption means supply chains have become even more complex, requiring agile, data-driven tools to succeed.
Tool Requirements for a Balanced Supply Chain
As new realities emerge, new and enhanced tools are required to compete and succeed. These tools must:
Create Feasible Supply Plans

– The stable supply chains of the past will likely not re-emerge. Today's software-driven tools must empower planners to create their own stability with data-driven insights. That stability will enable feasible plans that best meet demand.

Optimize Inventory

– In many cases, inventory is scarce. In others, it's non-existent. Demand and supply planning tools must help optimize existing inventory across multiple locations while leveraging multiple vendors and creating opportunities from nearshoring or reshoring suppliers.

Provide Precise Data to Suppliers

– With today's volatility, it's more important than ever to build supplier-as-partner relationships with new and existing vendors. That means having tools that provide suppliers with accurate and stable data to react promptly to disruption.
Rely on Robust Demand and Supply Software for the Right Tools
Companies need a diverse and data-driven suite of software solutions to cool down the volatility and bring supply chains to a stable balance. Manual data and human-based spreadsheet analysis won't work.
Once considered optional, many of the solutions required to bring this balance are now must-haves:
Constrained Capacity Planning
With rapidly changing consumer demand, the software should allow planners to balance material and factory resources to meet demand. Constraints include BOMs, supplier lead times, substitutes, and more.
The system should also allow for constraints in manufacturing and transportation resources and sourcing and suppliers. It should always include demand priority and sales forecasts.
Distribution Requirements Planning
The same economic and supply forces impacting manufacturing are also affecting transportation. A software solution shouldn't leave out the critical link for distribution, defining dependent and independent demand requirements across many locations.
It should also integrate easily into existing ERP systems to automate time-phased inventory replacement strategies and automatically route from secondary inventory sources when disruption occurs.
Inventory Optimization
An ideal software solution for stable supply chains must have inventory optimization capabilities. This optimization includes advanced analytics and considers demand, constraints, and other factors. It should enable statistical forecasting, automate safety stock ordering, and plan for EOQ and other min/max policies.
Lot Expiration
Many industries – like food and beverage, pharmaceutical, and medical – live and die regulations and expiration dates. Stable supply chains can't be built unless each
lot expiration
is automatically included in planning and ordering strategies.
Yield Planning
Especially critical for food and beverage is yield planning. Despite precise recipes, there are always differences in yield from batch to batch, and advanced requirements planning enables yield differences to be automatically accounted for.
These differences can be automated to update on-hand inventory and adjust replenishment order quantities accordingly.
Add Advanced Demand and Supply Software to Stabilize Your Supply Chain
Plex DemandCaster offers a best-in-class suite of solutions that meets all these needs. The software provides planners and managers with tools to cool down the volatility and develop stable and accurate supply plans to manage today's disruptive environment.
Contact us to learn how Plex DemandCaster can provide you with a solution today.