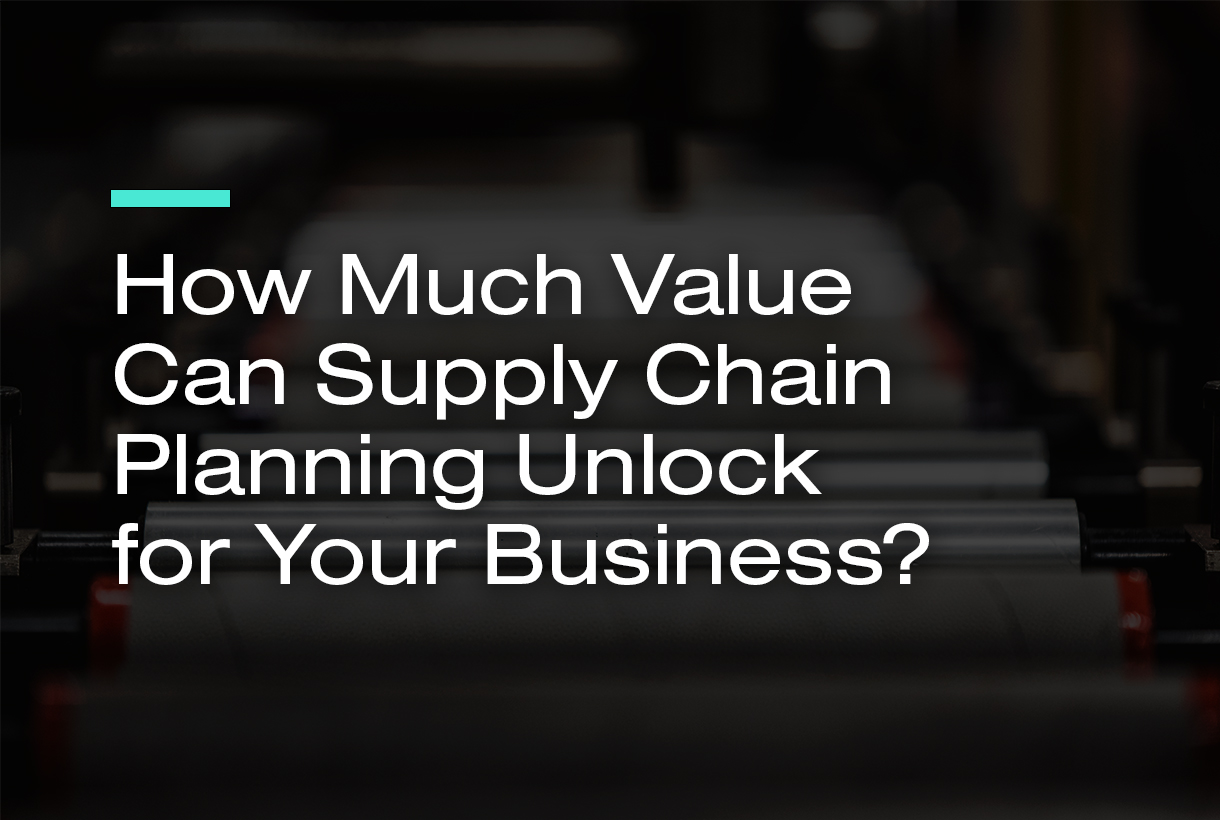 Manufacturing has always been an expensive undertaking. But with today's new reality of fragile supply chains, rising costs, and unprecedented disruption, producers have had to rethink their supply chain strategy.
Companies today hold higher buffer stock, purchase from more expensive local suppliers, and encounter higher expediting costs due to shortages. By tying up so much money in added costs, working capital is stretched thin, and companies risk cash flow problems.
Value vs. Convenience
Companies use software to organize, document, and run critical elements of their business. Inventory optimization software offers supply chain planning professionals the capabilities to gain control over their data, automate processes, and improve accuracy.
But in today's environment, that software must do more than offer the convenience of task automation and organization; it must be robust enough to deliver value as a vital aspect of a company's business processes. It must provide enough value to offset or overcome the added costs of operating in a new supply chain reality.
One key variable to unlock value is inventory reduction. A robust program of inventory optimization won't only lower the dollars tied up in material by increasing turns and reducing warehousing costs as space requirements drop. It'll also reduce distribution costs as goods move through the system more efficiently and with less expediting.
With today's fast and highly automated production equipment and increasingly complex supply chains, manual inventory tracking is virtually impossible. By using robust inventory optimization software from Plex DemandCaster, companies can deliver value to reduce inventory. This software frees up working capital, reduces warehousing, and eases the strain on working capital and cash flow.
Calculating Value
To know whether or how your software delivers value to your company, you must find a way to calculate its impact. How much does it reduce inventory? What's the impact on manufacturing capacity and service level? And how does it affect production lead times? These questions are critical to measuring the value your software delivers and realizing the inventory reduction needed to stay competitive.
Plex DemandCaster even offers a supply chain planning calculator to help you answer these questions and understand the financial impact of inventory reduction. The tool calculates the financial result of demand and supply planning to reduce warehousing costs, reduce distribution costs, and improve cash flow.
Adding Value to the Bottom Line
Your inventory is a time-sensitive investment that must be meticulously managed. Manual planning in disruption and chaos will mean you lose ground. And disparate and fragmented software systems that only organize and automate will lack the deep cloud-based analytical benefits of robust demand and supply planning software.
Plex DemandCaster Demand and Supply Planning software goes beyond convenience to help you realize value and regain ground lost. The software allows you to optimize inventory, lowering costs and increasing cash flow. Companies using Plex DemandCaster software have experienced a significant impact on their financial performance, including:
Inventory reductions from 20% to as high as 30%
A 10% jump in service levels
Up to 77% lower production lead times
A gain of 24-33% sales revenue per employee
Unlock Value with Demand and Supply Planning
With Plex DemandCaster Demand and Supply Planning software, you can unlock value that directly addresses the concerns of higher costs in today's supply chain planning environment. With advanced analytics and at or near real-time data analysis, the software is robust enough to deliver results for any level of supply chain complexity.
With additional software like inventory forecasting and optimization, Plex DemandCaster offers the traditional convenience of automating tasks and analysis. But its advanced analytics and feature-rich platform are an integral part of your business process to streamline your operation and reduce inventory, warehousing, and distribution costs.
Contact us today to learn how Plex DemandCaster can help you drive value through your supply chain.