One of my favorite retailers is Warby Parker, an incredibly creative company that has taken the mundane and pricey business of prescription glasses to its value added end without sacrificing quality or style. It is a wonderful model that we admire. A pair of prescription glasses at one of the well-know retailers would normally be priced at $300 to well-over $500. Warby Parker sells high quality stylish prescription glasses for $95 including lenses!
How can they possibly do this?
According to their web-site they cut out the middle-man, which we in the world of supply chain management would describe as the non-value added cost of glasses. By removing the middle man, they are able to keep costs down without sacrificing quality and style. The graphic below highlights the price components of a typical pair of glasses from a boutique store as compared to Warby Parker.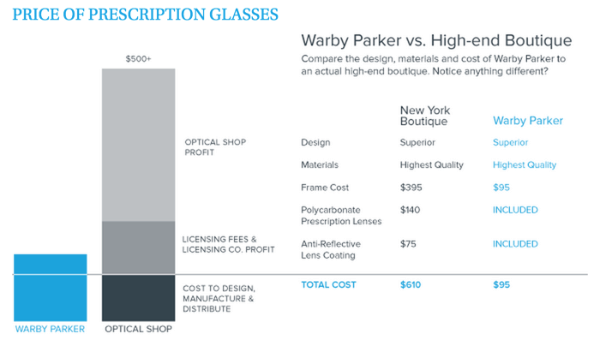 Photo courtesy of Warby Parker web-site
Warby Parker Supply Chain Management Philosophy
Warby Parker also maintains high levels of control within their supply chain assuring the highest quality at the fastest speed. A 2012 article in Business Insider article highlights Warby Parker's supply chain management process. Here is an excerpt:
How have you altered your supply chain as you've been growing? We've expanded the number of suppliers that we work with. We're meeting with them and talking with them, helping them think through how they scale. Warby Parker has three distribution centers in the U.S. alone. The acetate for the frames comes from a 150-year-old, family-owned Italian company; the frames are assembled in Asia; and the lenses are edged and inserted into the frames in the U.S.
We source raw materials — everything from hinges to screws. We've gone pretty far down the value supply chain to create such great quality at such a great price. It's the same production line. Before business school, I ran VisionSpring — which is Warby Parker's main partner — and we used to produce our own eyewear. I'd spend a bunch of time in the factories. I went with one of the founders and learned all about the manufacturing process. I had relationships to leverage and hired more people with supplier relationships.
We've tried to do our best to over-communicate with our suppliers. They've never seen an eyewear brand grow this quickly before. We're experiencing double-digit month-on-month growth. It's a lot easier to scale a website than a production line.
They have recently started doing the same for shaving. Their Harry's brand which launched in 2012, sells high quality blades and accessories at reasonable prices. In the case of Harry's, they one upped the Warby Parker model by recently purchasing the German company that manufactures their blades. This allows them to have direct control over their supply chain to assure they maintain the highest blade quality at the lowest price for years to come.
Expansion into Brick and Mortar Retail
Initially Warby Parker's go to market was marketing and selling via the web. They are considered the Netflix of prescription glasses and like Netfiix are disrupting an entire industry. Over the last year, Warby Parker has expanded into traditional brick and mortar stores merging their virtual delivery model with a more traditional retail model. But as would be expected, they are bringing something a little different to the brick and mortar.
On March 22nd, they are launching their new store in Manhattan. Fast Company wrote a piece on the new flagship store that you can read here. The new space is made up of three floors: a basement for inventory, a main retail and exam space on the first floor, and a mezzanine holding additional retail displays. Like their web-site which presents only product, they wanted the retail space to be dedicated with presentation and not be cluttered with inventory. The problem they faced was since the inventory is located in the basement they knew that they would be adding non-value added time to the operation to move inventory to the retail floor from the basement when requested. Abiding by their principle of eliminating waste to keep costs down, they came up with a clever way to transport the inventory quickly and efficiently: pneumatic tubes, like you find at a bank drive through. As Warby Parker cofounder Neil Blumenthal noted in the Fast Company article:
"We didn't want to store inventory to take up valuable sales space… Pneumatic tubes were fun, and the most effective way to do it. Sometimes you don't need the newest technology to create the best customer experience."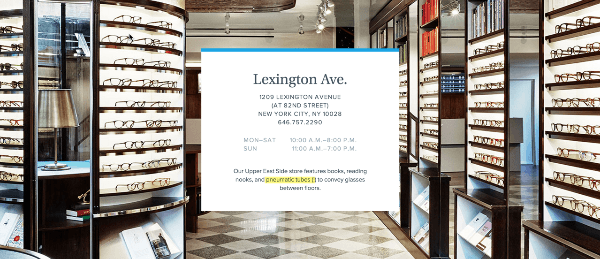 Photo courtesy of Warby Parker web-site
We aspire to be the Warby Parker of Demand and Supply Planning software. Like Warby Parker we cut out the middle man. We have no distribution or licensing partners, manage our own development supply chain, and we couple our virtual delivery with traditional face to face support as needed. It is why our subscription fees are low and we can respond quickly to bugs, and introduce new capabilities on a rapid and ongoing basis. Just because we have lower prices than others does not mean we have low quality. In fact, like Warby Parker, our price point is tied to our objective: to provide robust demand and supply planning capabilities to manufacturers and distributors of all sizes. To do this profitably for the long term, we are continually building and refining our operation.
Warby Parker was founded with a rebellious spirit and a lofty objective: to create boutique-quality, classically crafted eyewear at a revolutionary price point.
Is your company a Warby Parker?
Review your operation and supply chain management process to see if you can Warby Parker them. Where can you remove time and waste in sales and operations. Are their non-value added steps that can be eliminated to drive efficiency and speed and delight the customer? Being the highest quality and most stylish does not always mean being the highest price. Being the best is sticking to your core values and then building sales, marketing, and supply chain management processes that allow those core values to become a profitable strategic advantage for the long term.