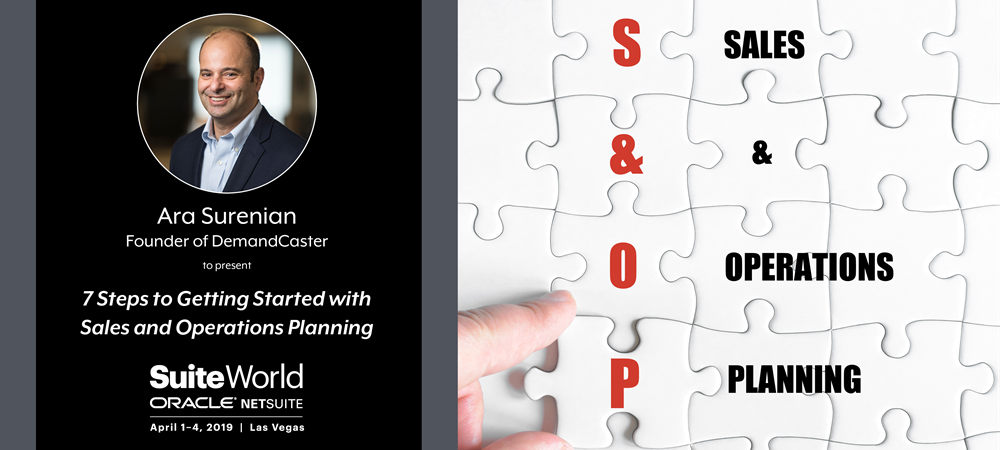 Ara Surenian, founder of DemandCaster and a supply chain visionary with over 30 years of industry experience, will present 7 Steps to Getting Started with Sales and Operations Planning at the upcoming Oracle NetSuite SuiteWorld. The session will explain the power of instituting an integrated approach to understanding and fulfilling demand. It will also define the framework for a monthly decision-making process that helps companies build consensus around a single operating plan that aligns demand, supply, product portfolio, strategic projects, and financial plans.
Ara's real-world experience working with manufacturers such as Universal Superabrasives and Raytheon's Missile Systems Division has taught him that Sales and Operations Planning (S&OP) yields big benefits. Companies that successfully implement S&OP experience:
Inventory reductions of 15 percent or more
98 percent on-time delivery
Transportation cost reductions in excess of 10 percent
Double-digit margin increases
But, Ara knows S&OP can be tricky to deploy without the right foundation. In his session, he'll share his own practical 7-step approach to kicking off an S&OP process that enables organizations to pivot from being reactive to proactive in order to simultaneously attain their financial and service objectives. Attendees of his session will walk away with knowledge they can immediately put to use.
7 Steps to Getting Started with Sales and Operations Planning will take place on Wednesday, April 3, 03:30 PM – 04:00 PM in San Polo 3406 located in the Venetian on Level 3. You can register for SuiteWorld19 and begin building your agenda at netsuitesuiteworld.com.
Ara's presentation is part of DemandCaster's larger participation in SuiteWorld19, where the company will be a Gold sponsor. The conference will take place April 1 – 4, 2019 at the Sands Expo & Convention Center in Las Vegas.
Attendees will also have the chance to connect with Ara and others from the DemandCaster team by visiting DemandCaster in Booth #1159 at the SuiteWorld19 Expo.