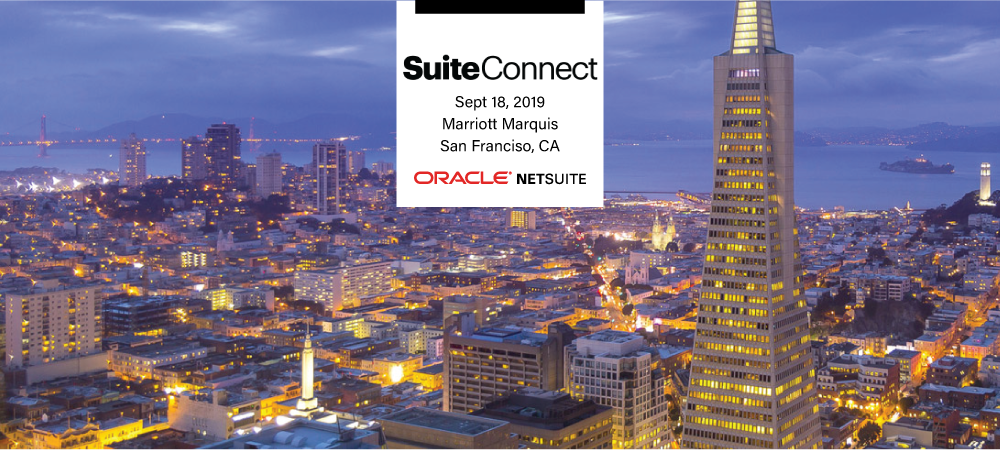 DemandCaster is proud to announce that it will be exhibiting at SuiteConnect19 San Francisco on September 18th. This event at the Marriott Marquis San Francisco will bring together 900+ NetSuite users, prospective customers, partners, press, and industry influencers.
Now in its third year, SuiteConnect offers attendees the chance to network with members of the NetSuite community, hear from executives about the future of the NetSuite platform and product, and learn from a variety of industry leaders. It's ideal for CEOs, CFOs, finance and operations executives, and marketing, sales, commerce, or service managers, as well as NetSuite customers and partners looking to unlock growth opportunities.
"NetSuite understands that the only constant today is change, and they are committed to hosting events that enable growth-hungry organizations opportunities to study new trends and solutions to keep them a step ahead," said Kristie Jones, head of marketing for DemandCaster. "We're excited to be a part of SuiteConnect19 San Francisco and to have the opportunity to demonstrate the value of our advanced planning solution and the role it can play in fueling organizational growth."
DemandCaster—a Built for Oracle NetSuite Integrated SuiteApp—provides NetSuite users with extended capabilities in supply chain planning, including advanced statistical forecasting, integrated demand/supply planning, complex multi-location inventory optimization, support for sales and operations planning (S&OP), and time-phased material requirements planning (MRP). DemandCaster features a highly visual, intuitive user experience and automated bidirectional integration with NetSuite ERP, and it uniquely enables forecasting, planning, and execution in a single system. With DemandCaster, NetSuite users minimize their use of error-prone spreadsheets and benefit from enhanced responsiveness, organizational alignment, and supply chain visibility.
DemandCaster personnel will be on hand throughout the SuiteConnect Expo to demonstrate the software and to answer questions.
If you'd like to take a quick look at DemandCaster before we meet at SuiteConnect, take a peek at our product overview video, or contact us to arrange for a personalized advance viewing of the power of DemandCaster.