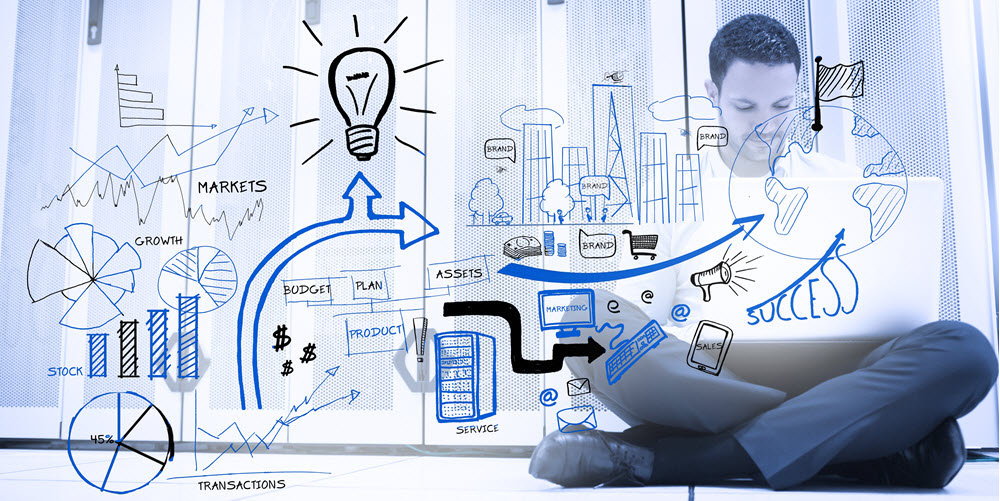 While it is easier than ever before to start a business today, many companies are not able to remain successful and grow to the next level. It's not surprising that the theme of last week's SuiteWorld19 was Grow Beyond.
For the most part, it seems that NetSuite users are doing a great job with growth. Research indicates that NetSuite customers grow 3x faster than the S&P 500. The question is—how exactly are they managing to achieve this growth?
When Evan Goldberg, Executive Vice President of Oracle NetSuite, presented SuiteWorld's opening keynote, he outlined a "Blueprint for Growth" which included five key ingredients every business needs to achieve growth:
Visibility
Control
Agility
Productivity
Collaboration
What struck our team as we listened to Goldberg walk through the Blueprint for Growth is how important tools, like supply chain planning solutions, are in building the foundation needed for growth.
(1) In terms of visibility, Goldberg spoke of the importance of being able to analyze the past, present, and the future and the ability to predict trends. This is what supply chain planning solutions are all about. With the right system in place, businesses gain insight into historical data, organizational intelligence, and key areas of their supply chain network which enables them to create precise demand forecasts and plans.
(2) Control can mean a lot of things. Goldberg stated that control is about, "how you respond to what you see." Every business wants to be able to control outcomes, stay on mission, and keep focused on their true north. He highlighted that there will be destabilizers and distractions along the way and that many of them will come from outside. They include economic change, trade agreements, and foreign exchange volatility. Supply chain planning solutions are especially useful in minimizing the bullwhip effect of unplanned demand spikes, dips, and fluctuations caused by destabilizers and distractions.
(3) When it comes to agility, Goldberg explained how the path to growth isn't always a straight line, and how all businesses need the ability to "bob and weave" as they grow. Agility in his opinion is about, "capitalizing on the opportunities that obstacles represent." Businesses today are being challenged by a range of trends, including evolving business models, new engagement platforms, new marketing channels, along with AI and machine learning. All of these impact inventory forecasting and optimization. Supply chain planning solutions provide businesses with the agility they need to deliver expected service levels while balancing ever-changing levels of demand and supply.
(4) Goldberg didn't dive into productivity and collaboration during his talk, but they are worth mentioning here. For businesses, gains in productivity are important because it means they can provide more goods and services to customers at less cost which translates into higher profits. Supply chain planning solutions supercharge productivity by automating the planning process and removing spreadsheets from the mix. With the right solution in place, planners don't have to waste time collecting, merging, and mashing up planning data and spreadsheets. One DemandCaster client, ASK Power, recently reported that their business reduced the time spent planning demand from a week a month to just four hours a month!
(5) Collaboration is a key element in sustaining a competitive advantage in today's global business environment. Savvy supply-chain focused companies use supply chain planning solutions—and specifically their S&OP functionality—to develop a collaborative business-wide game plan to improve their overall performance. Successful S&OP yields an integrated approach to understanding and fulfilling demand, ending the battle over finished goods once and for all.
Business growth is crucial to long term survival. Businesses that focus on visibility, control, agility, productivity, and collaboration will have a leg up on the competition. Tools like supply chain planning software make it possible to go beyond focusing—and move into mastering—the five key things every business needs to achieve growth.
Check out these case studies to see how companies just like yours are growing with the power of a joint DemandCaster/NetSuite solution:
TCHO Case Study—Increased Visibility and Insight Prove to be the Right Ingredients to Improve Deliveries, Increase Production, and Reduce Stock-outs 
STM Brands Case Study—Saying Goodbye to Spreadsheet-based Planning Enables Accessory Maker to Grow Their Operating Margin by 20 Percent