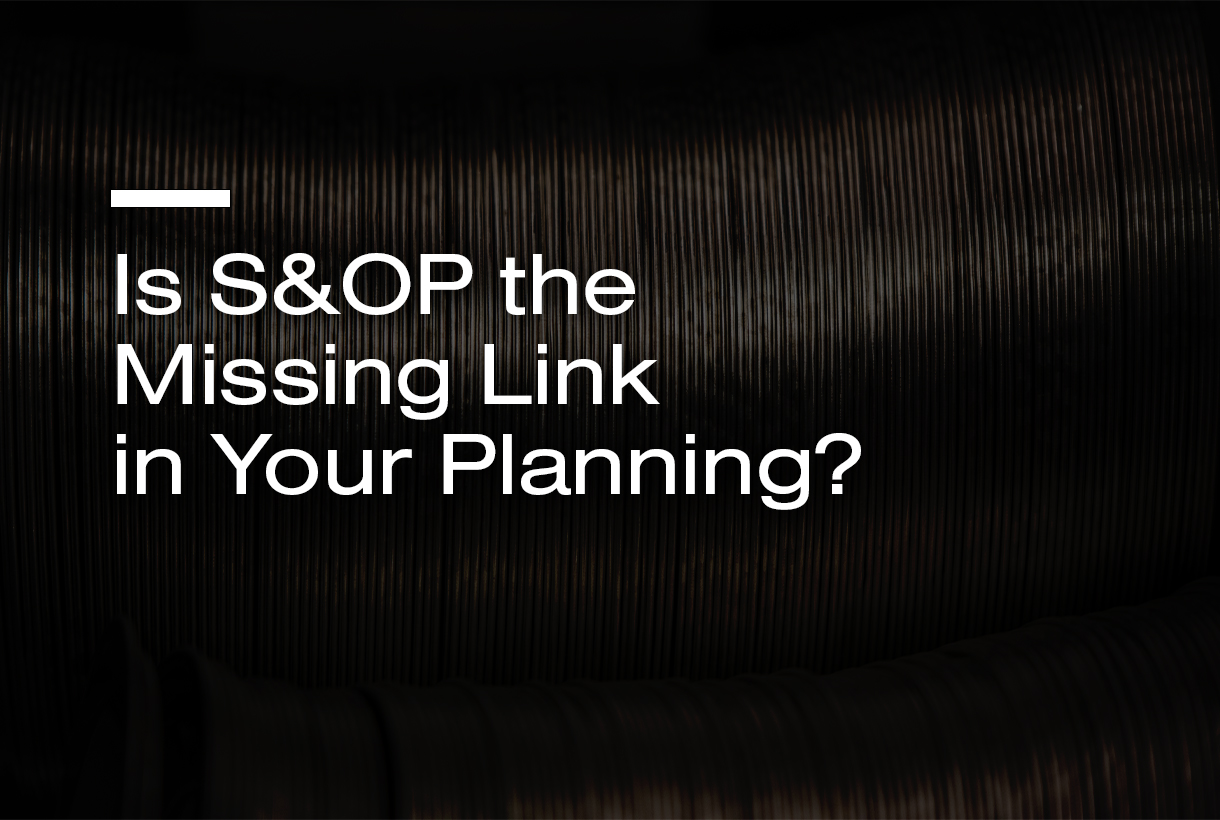 Production planning, inventory optimization, capacity planning, and distribution. Many companies invest significant time, energy, and training into these systems and turn a considerable portion of their production over to them.
But what about the strategic plans at the highest levels? How do these parts fit together comprehensively? And how does all this planning align with business objectives and goals?
The answer — and the missing link — may be in S&OP.
What is S&OP?
S&OP stands for Sales and Operations Planning. S&OP is, at its core, a decision-making process. It integrates and connects an enterprise's tactical plans and strategic goals into inputs and directions. This can turn demand and supply planning into actions that align with business plans.
Because disruption, rising costs, and other variables constantly change, they impact demand and supply plans, production plans, inventory, and more. They may have a ripple effect across different platforms and systems, and S&OP's goal is to keep these systems in sync so they all function to meet business objectives.
What Are the Fundamentals of S&OP?
S&OP works with four fundamentals to build a consensus across planning disciplines:
Demand
Supply
Volume
Mix
Demand and supply should be looked at individually to ensure they're in sync. If they aren't aligned, the volume and mix in production will be affected.
Volume relates to product families; for example, televisions. At the same time, the mix represents individual products, such as specific models within televisions.
Demand and supply inputs are constantly changing, but volume may be an established number resulting from a budgeting process. Meanwhile, the mix is dependent on all three.
Building an S&OP Plan That Addresses the Fundamentals
To assemble an S&OP plan that addresses the fundamentals and adds value to the company's business objectives, there is a simple hierarchy of steps to follow:
Forecasting – Forecasting is the entry point of inputs from the market and customers through opinions, surveys, and buying habits. It reviews previous forecasts, sales results, industry trends, and current industry and customer factors. The forecast stage attempts to identify new information and benchmark it against previous performance.
Demand – The demand planning stage involves players from across the organization. As forecasts are analyzed, the team may adjust policies for inventory, such as buffer stock targets, or customer service, such as return policy. Product demand is the critical variable, which may be measured in revenue or production units.
Supply – Supply addresses whether there is an adequate supply of raw materials or components to meet established or expected demand. It involves operations, finance, and inventory members who provide feedback on capacity constraints or constraints on labor, equipment, or vendors. These department members will create the supply plan required to meet the expected demand.
Pre-S&OP – This stage represents the final collaboration among team members before forwarding the S&OP plan to the executive level. Operations, inventory, HR, sales, marketing, finance, and customer service meet to determine whether the demand and supply chain plan is in sync and identify the resources needed.
Executive S&OP – The plan forwarded to the executive level represents the consensus plan from across the enterprise. Executive leaders will review and analyze all recommendations. They'll also make decisions on resolving any remaining issues and review all relevant KPIs before making any final adjustments to the plan.
Implementation – Once the plan is approved, it's put into action by the team members who participated in the collaboration and their respective departments. The goal is to adhere to the plan so that demand and supply chains drive production while keeping all systems aligned with goals and changes made at the executive level.
Find Your Missing Link
Demand and supply planning must work with all other planning and operations systems. A well-designed and collaborative S&OP plan is the missing link to keeping systems together. But the S&OP plan requires accurate data and information so that the decisions made at the top are based on reality.
Plex DemandCaster offers robust software for inventory optimization, demand and sales planning, rough cut capacity, and more – all the ingredients you need to implement an S&OP plan that adds value through data-driven decision-making.
Contact us to find out how our software can empower your S&OP.